Dr Anthony Lynham, Queensland Minister for National Resources, Mines and Energy released the Queensland Solar Farm Guidelines at Risen Energy's Yarranlea Solar Farm.
The Queensland Solar Farm Guidelines provide practical guidance for communities' landowners and project proponents.
"These guidelines are a clear checklist for local governments about what's needed for sustainable, community and industry led large-scale solar development." said Dr Lynham.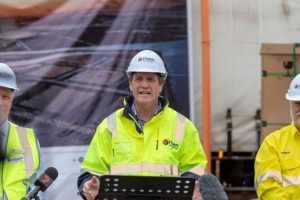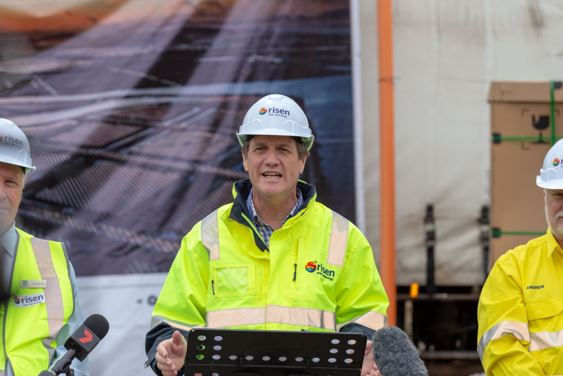 One of these large-scale solar projects under construction in Queensland's south-west is Risen Energy's Yarranlea Solar Farm, which was the venue for the Queensland Solar Farm Guidelines release.
The Yarranlea Solar Farm is in the second stage of construction and is located near Pittsworth, approximately 50km west of Toowoomba on the Darling Downs. The farm will be approximately 250ha in area and have a generation capacity of approximately 100 megawatt (AC), being sufficient to power up to 32,000 homes.
The Yarranlea Solar Farm is utilising local resources where ever possible and are working with the local community to deliver the project with a minimum of disruption.
"Yarranlea Solar and Risen Energy strongly support the Queensland Government's initiative in developing the Queensland Solar Farm Guidelines and submitted a comprehensive review and provided positive feedback to the Government on these guidelines" said John Zhong, Project Development & Investment Director, Risen Energy (Australia).
"Risen Energy Australia has assembled an experienced development team with strong power industry backgrounds and have been able to provide a practical review aiding the development of the Guidelines" continued Zhong.
"Risen's future developments will address and accord with the Guidelines, providing a roadmap for the engagement of the communities potentially impacted by development of Risen Energy projects." said Zhong.
Solar Farm site visit
To commemorate this site visit a ceremonial tree was planted as part of the 7,500 trees for the screening vegetation supplied by McKinlay Nursery in Pittsworth. Purchasing these through a the McKinlay Nursery aligns with Risen Energy's focus on using local resources where possible.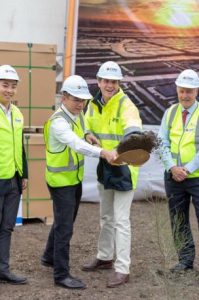 During this site visit the bulk earthworks undertaken to prepare the site for installation of the solar panels and the substation construction were viewed. The earthworks are being undertaken by Sedl Constructions, a local Toowoomba firm who have been engaged to complete the multi-million dollar earth works contract. The substation installation is being progressed by Yurika, the "commercial" arm of Energy Queensland.